Keith Urban, Jason Aldean, Dierks Bentley take it to the limit
Jessica Phillips | July 14, 2009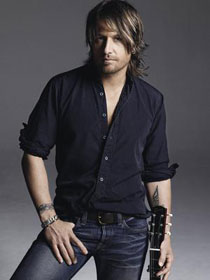 It's no secret that
Keith Urban
is a musical encyclopedia. During any given concert, you might find him pulling out Steve Forbert's 1979 hit, "Romeo's Tune," Tom Petty's "Freefallin'," or Third Day's "Call My Name."
So it was no surprise when Keith spontaneously called opening acts Dierks Bentley and Jason Aldean onstage at two separate tour stops in Kansas and Virginia to help him cover The Eagles classic, "Take It To the Limit."
Acting quickly to prepare, Dierks scrawled the lyrics to the song on his arm, while Aldean used gaffe tape to attach the lyrics to his mic stand.
Perhaps he took a cue from from Brad Paisley (who is known for his tour pranks), but Keith didn't let either get away with it and divulged their secrets to the packed crowd. Fortunately the crowd was more than happy to help the guys out, singing with them and cheering them on. You can see the video here