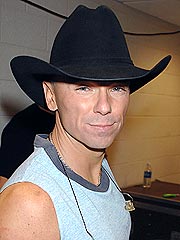 Some people don't understand southern hospitality. Southerners are famous for their ability to chat with, engage, butter up, and even bat a few eyelashes at anyone and everyone they meet. In short, they are natural social butterflies. They hug, pat a shoulder, laugh, or even bring you a drink. Southerners have perfected the art of being
real
nice.
So when Tennessee boy Kenny Chesney and Texas girl Jessica Simpson met at a party thrown by New Orleans Saints coach Sean Payton (incidentally, just days before Romo's callous breakup with the "Come On Over" singer), of course they were chummy and welcoming to each other. It's called being friendly and sociable.
But according to People Magazine, some tabloids claim Simpson and Chesney weren't merely being friendly, but were full-on flirting while Simpson attended the party with Romo. So, Chesney had to set the story straight:
"Tony's a friend, and I wouldn't flirt with a buddy's girlfriend," Chesney tells PEOPLE. "More importantly, Jessica was just being sweet and there was nothing else to it. It's not funny. There were no problems. Everybody got along great. After the party, everybody went their own way and nobody thought anything more about it. Period. End of story."